From 2 to 3 December there was a scientific-practical conference "Implementation of applied scientific research and experimental developments on "Information and telecommunication systems" in 2014 under the Federal Program "Priority research and development areas of science and technology complex of Russia for 2014-2020". The conference was held at the National Research University "MIET" and was a kind of a report on the implementation of thematic projects.
In November Scientific enterprise Tsezis, the company of the GC Nordavind, received a grant from the Ministry of Education to develop a cloud service for intelligent processing of video streams of high availability integrated with corporate and departmental video subsystems based on open protocols and free software.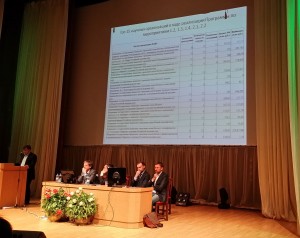 At the conference, a scientific project leader Ilya Svirin presented the interim results and plans for next year. His report was of great interest of experts, company representatives and other conference participants. Despite the limited amount of time since the start of the project, we have already received positive feedback on our work.
We thank the conference organizers for providing a platform for discussion. We are confident that the format of discussion provides improving the quality of projects under the federal program.